About
Download the Vienna Project App, available for iOS and Android. Click here for more information.
Credit: Elisabeth Wildling
The Vienna Project is a new social action memorial project.  The Vienna project opened on 23. October 2013 and will conclude in May of 2014.  The project is to be situated on the streets of Vienna and along the Danube Canal.  If you are interested in participating in our Sidewalk Installation Project, click here.
The Vienna Project is the first public art memorial of its kind in Europe and the first public naming memorial in Vienna to symbolically represent, in a differentiated format, the multiple groups of persecuted victims of National Socialism, while also naming individual victims and dissidents on record within a given country, murdered between 1938-1945. Forging a dynamic relationship between different disciplines: art, video, new technologies, typography, web design, street theater, sound art, history, archival research, and Holocaust education, The Vienna Project is envisioned as a "living" memorial based on a participatory model of engagement. READ MORE…
Ab Ende Oktober wird in ganz Wien ein neues Gedenkprojekt für rund sechs Monate lang an die Opfer des Nationalsozialismus erinnern. Ins Leben gerufen wurde The Vienna Project von Karin Frostig, Künstlerin, Autorin, Professorin und Enkelin österreichischer Holocaust-Opfer anlässlich des 75. Jahrestags des Anschlusses 1938. Das Projekt ist das erste öffentliche Mahnmal, das die verschiedenen Gruppen von Opfern des Nationalsozialismus in einem differenzierten Format darstellt und ihrer gedenkt. Diese Gruppen umfassen Juden, Roma und Sinti, Opfer der NS-"Euthanasie", Homosexuelle, politisch Verfolgte und Dissidenten, Slowenische Partisanen und Zeugen Jehovas. The Vienna Project wird – basierend auf dem Konzept der Partizipation und dem sozialen Handeln – von Studierenden, KünstlerInnen, ProfessorInnen, HistorikerInnen und PädagogInnen inhaltlich und künstlerisch umgesetzt. So entsteht eine dynamische Beziehung zwischen unterschiedlichen Disziplinen wie Kunst, Video, neuen Technologien, Typografie, Webdesign, Straßentheater, Tonkunst, Geschichte und Archivforschung.
ZVR-Zahl: 409984415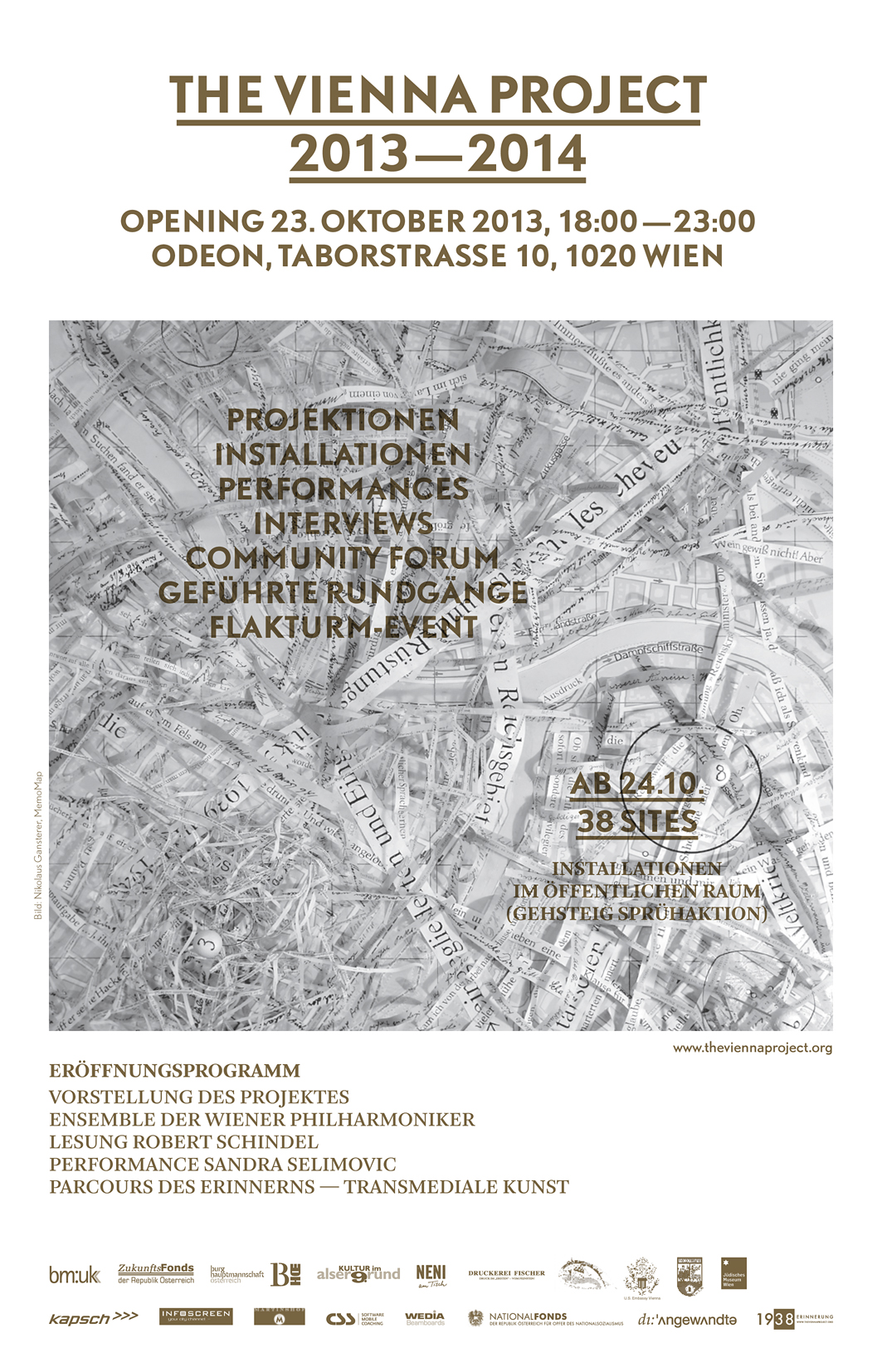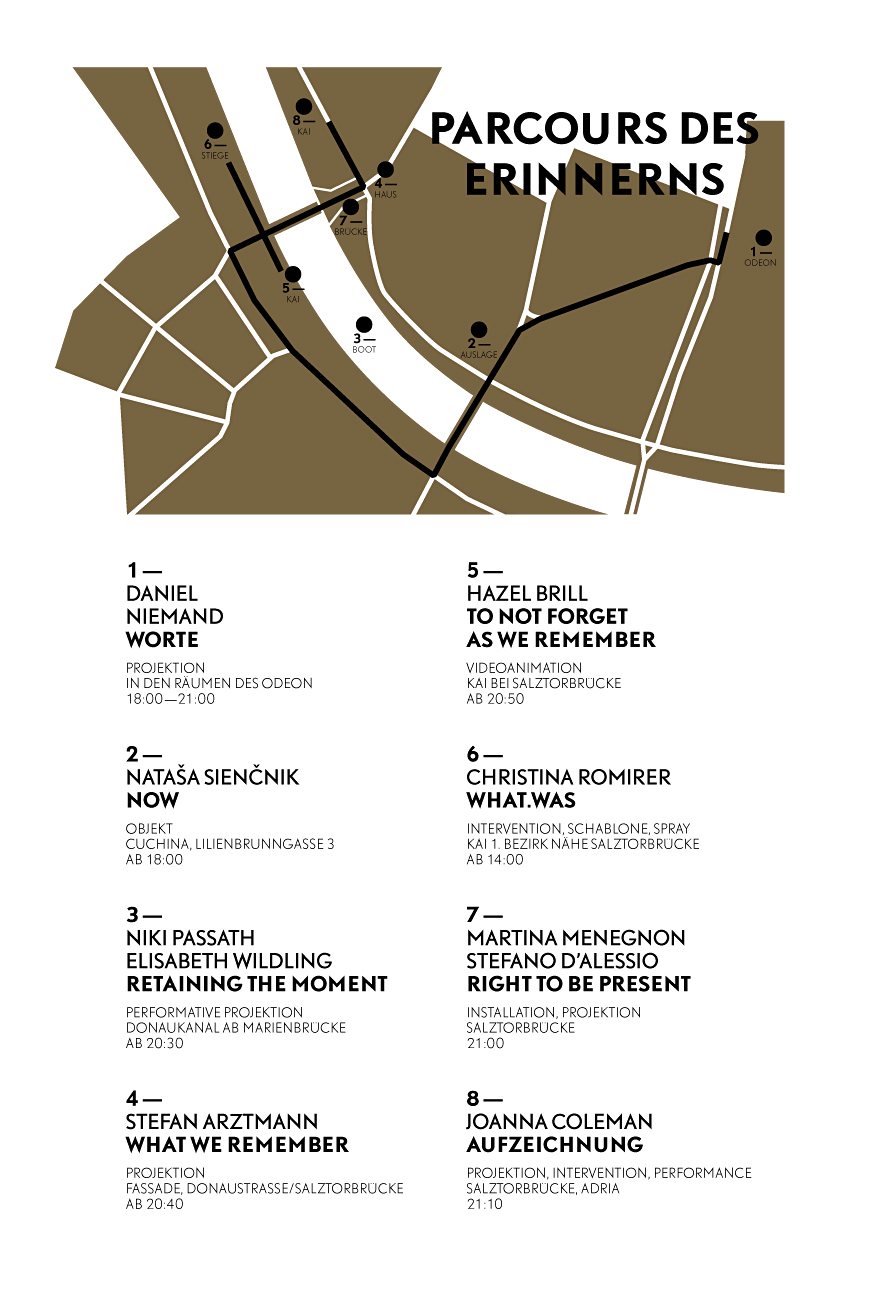 Projekt team
Prof. Dr. Karen Frostig, President and Artistic Director
Dr. Jérôme Segal, Lead Historian for 38 sites
Dr. Georg Traska, Master of Ceremonies and Oral Historian
Dr. Ildiko Meny, Curator for Performance
Kabren Levinson, Chief Technology Officer
Sydney Ogidan, Executive Producer for Opening Ceremonies at the Odeon Theater and Parcours des Erinnerns
Univ.-Ass. MMag.Art Elisabeth Wildling, Memory Projection Artist and Leader of Parcours des Erinnerns
Univ.-Lekt.Mag.Art Nikolaus Gansterer, Memory Map
Univ.-Lekt.Mag.Art Waltraud Jungwirth, Stencil Designer
Johanna Taufner, Social Media Manager
Marliese Mendel, Blogger



Dieses Werk bzw. Inhalt ist lizenziert unter einer Creative Commons Namensnennung – Nicht-kommerziell – Keine Bearbeitung 3.0 Unported Lizenz.