Sidewalk Installations
Index
38 Memory Spaces
Hand-cut stencils developed by students at the University of Applied Arts Department of Graphic Design, under the tutelage of Univ,-Lekt.Mag.Art Waltraud Jungwirth, are being sprayed onto thirty-eight sidewalks of Vienna, corresponding to 1938. Historians on the academic and advisory boards provided oversight for the selection of sites. The researched street addresses identifying sites of criminal assault, humiliation, exclusion, as well as rescue and resistance, were sprayed with the tag "Was passiert wenn wir vergessen uns zu erinnern/What happens when we forget to remember?" The phrase reoccurs in different configurations around the city in ten languages–Deutsch, Yiddish, Romani, Slovenian, Polish, Russian, Serbo-Croatian/Bosnian, Turkish, Hebrew and English. The question serves as the project axiom stimulating new conversations about National Socialism.The 38 addresses will be activated by performance artists and educators as sites for new representations of memory, developed over a period of six months. A schedule of planned performances is posted on the project website, and  a series of walking tours of the specified sites will be available online in late winter. If you are interested in participating, read the Sidewalk Installation Guidelines and register your event.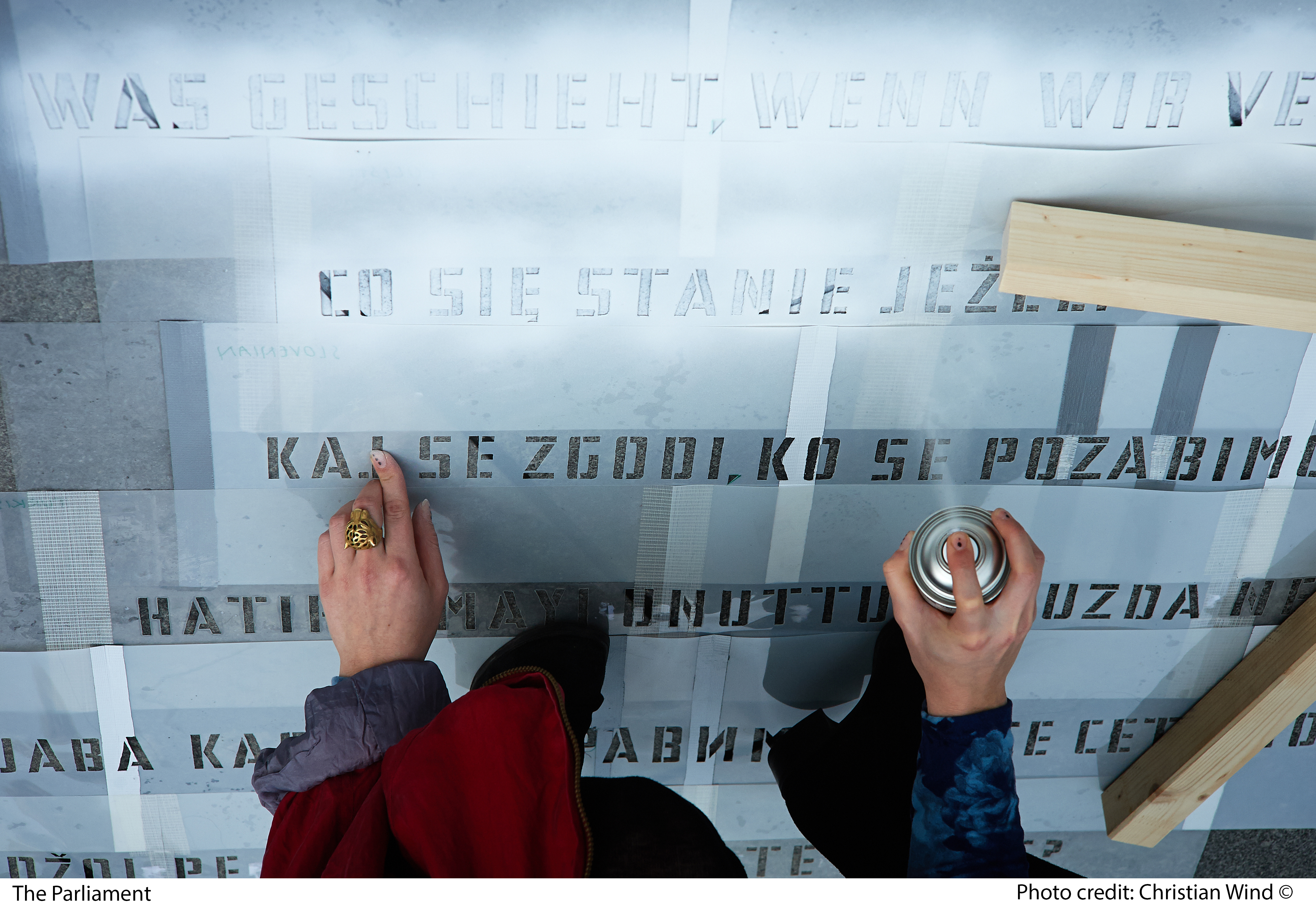 Artists, historians, and educators will use the 38 sites to apply a variety of approaches to sponsor public engagement with the past: 1) Beginning with the history, project historians will use the web site and Smartphone app to post two paragraphs about each site, providing a concise, scientific report, substantiated by some form of documentation or primary source citation. 2) When possible, the app will also position an archival photo next to a present-day photo of the site. 3) Additional links will provide an extended discussion of each site, with anecdotes, and other forms of documentation based on primary source citations. 4) Interviews conducted by the project blogger, will investigate the site informally, canvassing the site, photographing how people respond to the site, interviewing people who live at or next to the site. 5) Community forums in neighborhoods containing sites will generate new conversations about the sites. Members of the different victim groups will be invited to join these discussions to dialogue about the past. 6) Performance artists will develop engaging, interactive performances at various sites, addressing the history. "Silent witness vigils" will also take place.  7) Student audio interviews will occur at the sites next spring, directed at interviewing pedestrians as they pass by the site. 8) Interviews with survivors who have a relationship to a particular site or neighborhood, will be recorded and uploaded to the web site and the smartphone app, as well as integrated into the thematic tours.  9) Thematic guided tours, actual and virtual, will be another vehicle for organizing the history and thinking about the past in relation to the present. 10) User-generated photos and videos produced at the site and uploaded to our Facebook album (coming soon) will provide another layer of documentation.
Initial Sprays
24. October 
11:00  Parlament/Parliament, Dr. Karl Renner-Ring 3, 1010 Wien
ao. Univ.-Prof. Dr. Stefan Hammer, Institut für Rechtsphilosophie, Religions- und Kulturrecht Universität Wien


14:00   Naturhistorisches Museum / Natural History Museum, Burgring 7, 1010 Wien
Dr. in Margit Berner, Anthropologische Abteilung, Naturhistorisches Museum

16:00   Pouthongasse 12, 1150 Wien
Hermine Liska, Survivor of Nazi persecution


25. October
11:00  Universität Wien / University of Vienna Universitätsring 1, 1010 Wien
Mag. Dr. Phil.  Stefan Wedrac, Institut für Rechts-und Verfassungsgeschichte


14:00  Wiener Landesgericht, Langesgerichtsstrasse 11, 1080 Wien
Mag. Friedrich Forsthuber, President of the Wiener Landesgericht


November Pogromnacht Sprays
6. November 
At 14:00 on the afternoon of 6. November 2013, a memory space in front of Hamakom-Theater im Nestroyhof in the Leopoldstadt district was stenciled with a poem by award-winning poet, Robert Schindel. The Nestroyhof Theater was built by a Jewish architect, Oscar Marmorek in 1898 and home to Jewish theater until 1938, when it was closed by the Gestapo immediately following the Anschluss. Schindel was a hidden child during the Holocaust, reunited in 1945 with his mother who survived Auschwitz and Ravensbrück concentration camps. His father was murdered in the Dachau concentration camp.


 7. November 
At 14:00 on 7. November, a second memory space was sprayed in front of Palais Ephrussi, at Universitätsring 14.  The former home of the Ephrussi family, the address was used to symbolize the theft and plunder that took place in the homes and businesses of Jewish victims during and leading up to the November pogroms. Karen Frostig introduced a discussion about  theft of Jewish property starting in 1938,  and contested issues of restitution related to property theft and international law, making reference to Sophie Lillie's writing and recent articles about looted art.  This presentation was followed with a reading by actress Michaela Adelberger at 15:00, from Edmund de Waal's book "The Hare with the Amber Eyes" (using the German translation).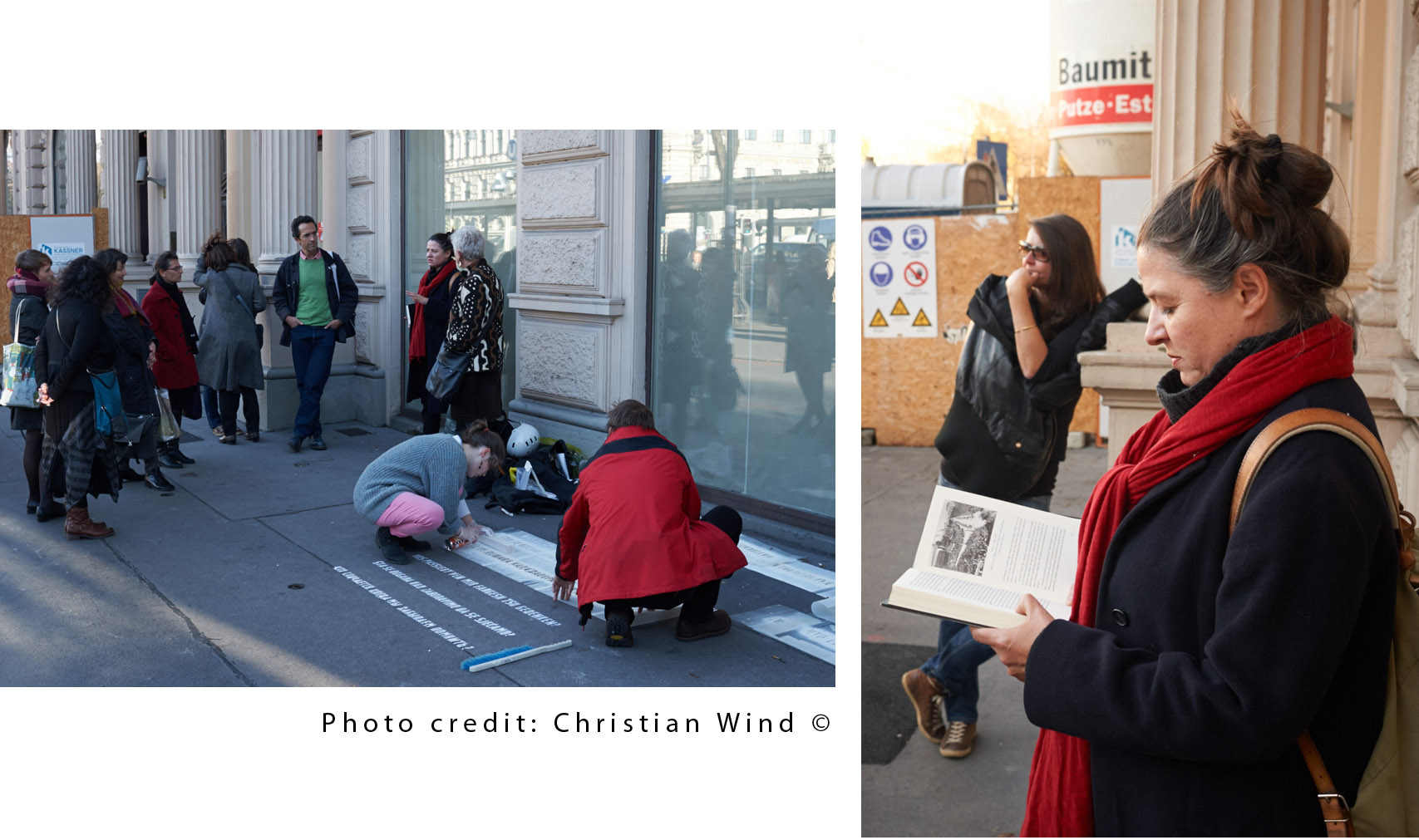 8. November 
At 14:00 on 8. November, the sidewalk in front of Palais Rothschild at Prinz- Eugen-Straße 20-22, 1040 Wien was sprayed. This site became  Eichmann's Central Office for Jewish Emigration, responsible for the expulsion of 110,000 Austrian Jews beginning in August of 1938, and for the deportation and subsequent murder of 66,000 Jews living in Austria, starting as early as 1939.  Doron Rabinovici, author of "EIchmann's Jews: The Jewish Administration of Holocaust Vienna, 1938-1945″ was invited to speak about the history of the site and the myth of Jewish collaboration with the Nazis.
9. November   
Rescheduled for May 2014 (see closing), a video projection designed by Stefan Arztmann and using text from the project axiom "What happens when we forget to remember?" will appear on a building at a corner near the canal at Gredlerstraße/Lilienbrunngasse, 1020 Wien.  The text will be composed as a poem within a poem, sequential patterns of text that flashes on and off.
Additional Sprays
13. November 
At 9:00, students Liza Schluder and Rosa Czernin "resprayed" the stencil at the Universität Wien / University of Vienna Universitätsring 1, 1010.  The stencil sprayed on October 25th was removed by cleaning services at the University.  The University expressed their regret for this error and fully support the memory work of The Vienna Project.  At the respraying, we discussed the meaning of memory and the concept of "dialogue." in the public sphere.


At 11:00, a spray took place at Barankapark, Hellerwiese Belgradplatz, 1100 Wien.  Gilda Horvath, journalist, ORF Radio & TV broadcaster, was invited to speak about Roma history in Vienna. Dr. Jérôme Segal spoke about his work with the Roma community in a suburb of Paris, setting up numerous solidarity actions.  He continued this work in Austria with Roma children from Slovakia, publishing many texts in French and German, in newspapers and professional journals to raise awareness on this issue.


At 14:00, a second spray occurred at Gedenkstätte Steinhof/Otto-Wagner-Spital, Baumgartner Höhe 1, 1140 Wien.  Speaker Friedrich Zawrel was invited to discuss his experience as a survivor of National Socialism and of two encounters with Nazi Euthanasia physician's Dr. Heinrich Gross, administrating the Euthanasia program at Otto-Wagner-Spital.


Additional Programming
Performance Art, Educational Theater, NGO Meetings 
The performance program is dedicated to learning about the interconnectedness between past and present interpersonal violence and collective violence, to prevent violence and to build mutual respect…  Ildiko Meny, Curator for Performance Art

Beginning in November through the following April with weather permitting, the memory zones will be activated by various artists: performance artists, poets, musicians, installation artists, and educational theater troupes signing up to use the space. Programming, developed by our performance curator, Dr. Ildiko Meny, will generate a link from the past to the present, sponsoring new conversations about freedom, civic courage, and the meaning of citizenship in a civil society.  The performance art program addresses human rights history and draws new relationships between how the past informs the present and prepares us for the future. Performances will occur in public spaces as well as online, attract local as well as international audiences. These events, actual and virtual, will be recorded and reviewed on the project blog and uploaded to the Smartphone app. See calendar postings for specific dates and times. Primarily orchestrated by Austrian artists, international artists whose work is related to a particular aspect of The Vienna Project, may also apply to use the space. In addition, NGO's and other Austrian-based organizations may arrange to hold public meetings in the Memory Zones.
The Vienna Project Performance Programme is an open opportunity for artists and interested people to use the 38 Memory Spaces (please refer to the history of the 38 Spaces on our webpage or within the Smartphone Application) for various Actions according to the projects main theme of REMEMBRANCE.
25.November-10.December 2013  "Hair-Code" online exhibition curated by Ildiko Meny

Hairstyle, Haircut and "Hair-code" are undergoing various changes and trends within history. To wear long or short hair, beards or braids is connected to social changes, religion, religious rituals or simply by the availability of means to cut and dress. When Prussian male soldiers cut their braids off due to a new order, the saying " this is an old braid" refers to the "change of style" since then. Both sexes, male and female used to have long or short hair within different historic periods and cultures. Consequently the social pressure to wear a certain hairstyle or to even have cut peoples hair when incarcerated can be seen a violent act against personal rights. When women or children are beaten up, men often violently tear and hold them on their hair. The Vienna Memory Project commemorates violent acts and murder and therefore we commemorate the people, who before loosing their lives in concentration camps had their hair shaved to be humiliated. Participants: Dwora Fried-Dreilinger, Nora Jacobs, Ethan Shoshan, Sonya Rapoport, Jody Wood, Kirsten Marie Thingsten, Monkey Teeth, Anthony Wills Jr., Daniel Johnson, Donna Henes, Brenda Oelbaum, Jonathan Vaughan, Priscilla Otani, Pamela Simonton, Arlee Leonard, Naoe Suzuki, Moya Devine, Adrienne Outlaw, Harley Spiller, Susan Feldman, Marcia Pitch, T, Alyne, Elaine Alibrandi.

2.January 2014 "Silent Witness  Vigil" 17:00, with Ildiko Meny, Hamakom-Theater im Nestroyhof, 1020 Wien

SILENT WITNESS VIGILS, every first Thursday of the month around 17:00. Meet at the sprayed sites close to your community: Bring a candle and REMEMBER! Please also share some thoughts about this in our Facebookgroup page if you like.

27.January.2014  "Erasure" 12:00, Performance with Prof. Dr. Karen Frostig, at the memory space in front of  Universität Wien, Universitätsring 1, 1010 Wien, or inside front foyer –Holocaust Remembrance Day

Human erasure is a violent act. The performance "Erasure" occurs on Holocaust Remembrance Day. The Nazi-takeover of the University of Vienna began on 12. March 1938. University records indicate that "more than 2,700 mostly Jewish affiliates of the University of Vienna were dismissed and subsequently driven away and/or murdered – professors, lecturers, students and administration employees." Frostig's father, a graduate of the university's law school was expelled from his internship in the courts and prevented from taking the law boards. "Erasure" invites students and pedestrians to join in the physical action of erasing, while discussing erasures of the past and the present. Erasers imprinted with the question "What happens when we forget to remember?" will be distributed to participants.

27.January 2014 "Vergessen I Erinnern" 15:00 bis 17:00,  Performance with  Prof. Dr. Ferdinand Schmatz, Prof. Esther Dischereit, and Zsuzsanna Balla.  Prinz-Eugen-Straße 20-22, 1040 Wien (Eichmann's Central Office for Jewish Emigration)–Holocaust Remembrance Day

Long since the symbols of a dictatorship have been replaced by images of democracy, memories continue to inhabit the space in and around Prinz-Eugen-Straße 20-22. Students of the Institute of Language Arts at the University of Applied Arts will work with Hungarian writers to develop ""Vergessen I Erinnern."

At 20 clock a reading and discussion will take place at Librería Utopía – radical bookstore in Vienna 15, Preysinggasse 26-28 (U3 Schweglerstrasse )

27.January 2014  From our Honorary Board member Edmund De Waal: 19:00 Edmund de Waal, Kunsthistorisches Museum Wien, Cupola Hall, Maria-Theresien-Platz, 1010 Vienna

Sabine Haag, Director General of the Kunsthistorisches Museum, invites you to the first in this year's series of talks and conversations with artist Edmund de Waal.

6.February 2014 "Silent Witness  Vigil" 16:00,  Community groups invited to find a memory space in your community to occupy for one hour. Please forward documentation photos to ildiko@theviennaproject.org for blog posting.

6. March 2014  "Silent Witness  Vigil"14:30 Silent vigil with Ildiko Meny at Hamankom Theater.

7.March.2014 "Plant a Pansy" 15:00, with Johanna Maria Taufner and Ildiko Meny with Andreas Brunner at Resselpark. Meeting point is metro Entrance Technical University.

Staged performance to remember Homophobia which took place there.

21.March.2014 "Move the World", 14:00, Naturhistorisches Museum / Natural History Museum, Burgring 7, 1010 Wien–World Against Racism Day

An initiative to enhance empathy through Movement.

1.April, 2014  Guided Tour 15:00  with Kate Melchior "Highlights of the Ringstrasse Revisited."  Registration on RSVP form

3.April 2014 "Silent Witness  Vigil" 19:00,   Community groups invited to find a memory space in your community to occupy for one hour. Please forward documentation photos to ildiko@theviennaproject.org for blog posting.

5.April 2014 Guided Tour 15:00  with Kate Melchior "Political Systems: National Socialism in Vienna".  Registration on RSVP form

7.April 2014 Guided Tour 15:00  with Kate Melchior "Highlights of the Ringstrasse Revisited."  Registration on RSVP form

8.April 2014, 16:00 Concert at  Romaplatz, am Bruckhaufen, 1210 Wien (TBC)  for International Romani Day

11.April 2013, 15:00-17:00  Performance: Artist Phillip Reichel presents "Grandfather Interrogations" open reading and discussion im DÖW-Gedenkraum, Salztorgasse 6 (back entrance of the former Gestapo headquarter).

25.April 2013, 15:00-17:00  Performance: Artist Phillip Reichel presents "Grandfather Interrogations" open reading and discussion im DÖW-Gedenkraum, Salztorgasse 6 (back entrance of the former Gestapo headquarter).

MORE PROGRAMMING TO COME…
Oral historian, Dr. Georg Traska, will interview survivors representing multiple victim groups and different circumstances of persecution.  Dr. Traska is especially eager to interview survivors whose story corresponds to one of the sites or surrounding neighborhoods. Using video as well as audio tools, the interviews will represent current reflections on this period of  history as well as fresh insights about resiliency following trauma.  These interviews will form "anchor points" in the guided tour program. Interviews will happen primarily in Vienna, but may also include conversations with survivors living outside of Vienna, and be uploaded to the project blog and Smartphone app, adding new layers of memory to each site. If you are a survivor or know of a survivor whose personal history entails a story about one of the 38 sites, please email karen@theviennaproject.org
Many of our sites had tragic agendas under the murderous regime of National Socialism.  A number of these sites have since been reclaimed and repurposed to serve  the Austrian people. Historian Dr. Jérôme Segal will interview directors of new institutions located at prominent sites to understand how they faced this difficult past. Discussion will examine the histories of specific sites, focusing on the process of reclamation regarding organizational design and development as a reparative response to prior history. Additional attention will be given to the various ways institutions communicate these evolutions to the larger society. The interviews will be uploaded to the Smartphone app for public access.
Individual teachers can elect to work with students, using the designated memory spaces to conduct digitized audio interviews with pedestrians walking through and around the memory spaces. A number of interviews can be uploaded to the project smartphone app, allowing international audiences to hear voices of today's Austrians candidly engaged in a discussion about memory,  capturing the spirit of public attitudes regarding the history of National Socialism, 75 years after the "Anschluss."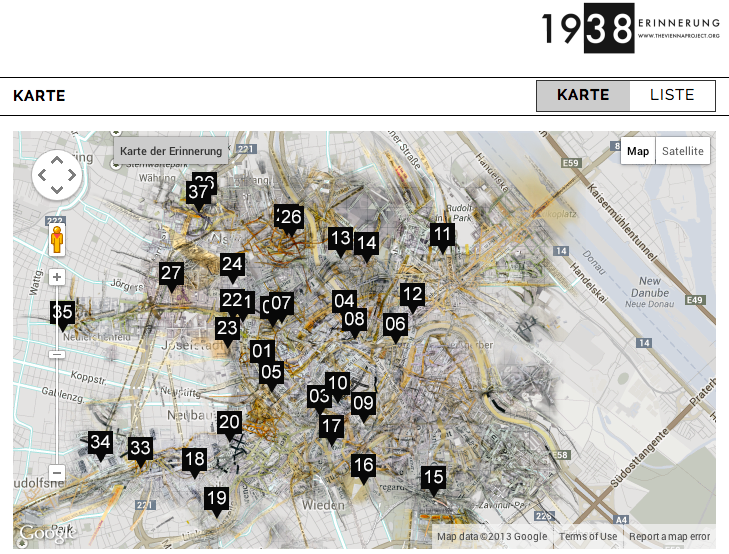 A series of walking tours will be developed by project intern Kate Melchior, in conjunction with the European Agency for Fundamental Rights (FRA), for bringing visitors to the 38 sites. Different thematic tours will be organized to highlight a variety of topics, such as gender, group identity, or actions of resistance. Dr. Georg Traska and Dr. Jerome Segal will interview survivors collecting eye-witness reports regarding memories connected to a specific site.  These interviews will be posted on the Smartphone app and integrated into the tours. Tours on occasion will also feature a conversation with a local resident, who can offer a first-hand account of what took place in that district. Tours will be developed for different age groups with different interests, backgrounds, and needs. Special attention will be given to migratory populations in Vienna, who are especially attuned to issues of exclusion and marginalization. Tours under development:
Highlights of the Ringstrasse Revisited
Political Systems: National Socialism in Vienna
A Day in the Life: Pre-War Jewish Communities of Vienna
Partnership with Multicultural Center Prague/ Multikulturní centrum Praha
We are pleased to announce a new partnership with the Multicultural Center Prague: the "City without Jews project" funded by the EU grant: EACEA – Europe for Citizens programme.  Dr. Jerome Segal, our lead historian in developing the 38 sites,  also in charge of content management for our Smartphone app, will represent The Vienna Project in this exciting new development. The shared focus of the partnership concerns our mutual mapping projects and also a plan to show  "City without Jews," an Austrian film made in 1924 by H. K. Breslauer, based on the book of the same title by Hugo Bettauer.  The silent film will be shown in Vienna on 5.May (venue TBC), and will include a pianist accompaniment and discussants, Thomas Baulhausen and Dr. Jérôme Segal.
The Vienna Project Tumblr Blog and Facebook
Social media manager, Johanna Taufner in charge of our Facebook and Twitter accounts, has developed a Tumblr blog that captures the public experience of the project as it unfolds on the streets of Vienna. Peppered with interviews, video documentation, and a flurry of photos, the blog produces a visual portrait of the project with commentary in German, that can be accessed all over the world. The blog reflects new ideas about the art of memorialization for 21st century audiences.  Our Facebook page provides ongoing project updates and postings of related news items.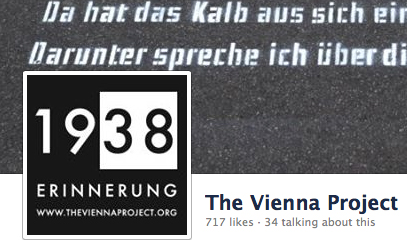 The Vienna Project is dedicated to creating a participatory practice of memory and memorialization that represents multiple points of view and brings the past into alignment with the future.